Totems, 2015-16
Charcoal on paper, 200x150 cm each
Photos by Gerhard Vollberg



MINIDOCU EPS 03: IRINA BIRGER from dnafilms.nl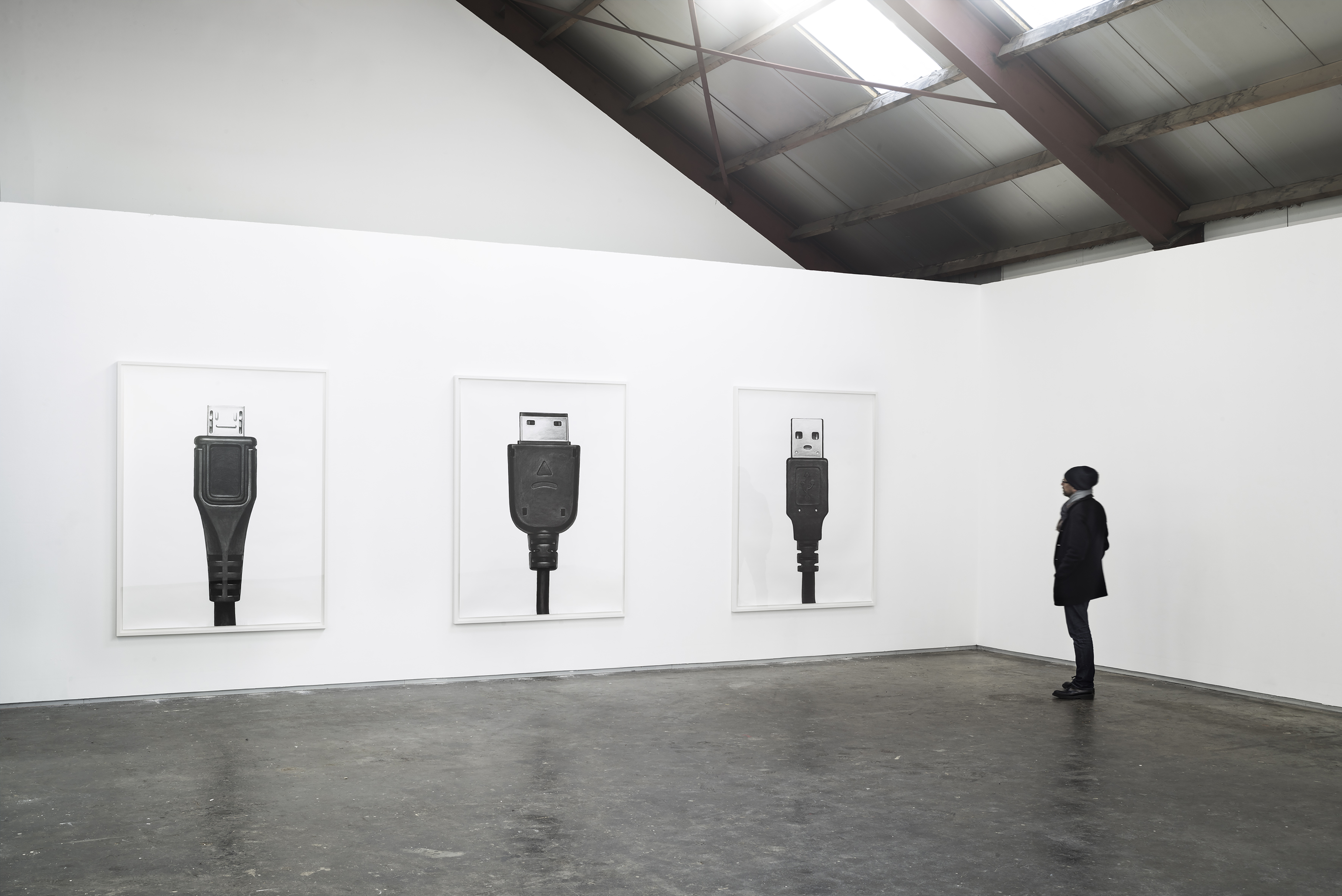 Totems, 2016 at Nieuw Dakota, Amsterdam

Micro USB
Samsung
USB
Sony Ericsson
iPhone iPad
iPhone
FireWire 4-pin

Micro HDMI

LG
Micro USB 3

USB 3

FireWire 800



eSata
Sony Ericsson K750
Mini USB

Text by Katia Krupennikova

Rigorous in their monumental firmness, characters depicted in Irina Birger's immense charcoal drawings stare at the observer, evoking spooky sensations of being traced. The new series developed by the artist in 2015 brings together 'portraits' of data cables. Visually based on the powerful language of central symmetry, and reminiscent of totalitarian Iconography, these sometimes fierce, sometimes funny creatures remind us of robots from classic Sci-fi movies such as Metropolis, or Star Wars. Drastic isolation and enlargement enrich the objects of everyday use with new qualities, at times miraculously endowing them with human features. Animated by the hand of the artist cables transform into totems, spiritual beings and worship objects, sacred to some community. Just as totems serve as a magic tool for connecting the border between physical and metaphysical worlds, cables establish links that otherwise wouldn't be imaginable.

Information technology has burst into the contemporary perception of the self and the sense of belonging to a group. It establishes and supervises psychological and emotional ties between individuals in the society. Drawing everyday objects, like computer accessories becomes for the artist a way of writing diaries about modernity: documenting and archiving traces of the present moment that might disappear tomorrow.

In the current series Birger does not only explore this human desire for connectivity, our physical transformation through centuries and our role in creating and supporting power mechanisms. She technically juxtaposes the oldest drawing technique used in primordial cave drawings with contemporary means of information transfer.